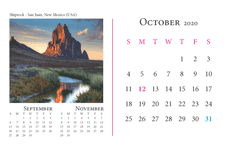 2020 Desktop Calendars
ORDER ONLINE BELOW!
Fully Customizable
13 Month Calendar (Jan 2020- Jan 2021)
Sheets: 6 x 3.875", Printed 4/4 on 100lb Dull Text
Base: 6 x 5.75" Sides Plus 3" Base, Printed 4/0 on 130lb Cougar Cover
Wiro Bound in White at top
FREE Customization on Calendar Bases create the perfect giveaway!
Ships in 5-7 Business Days
PLEASE NOTE:    
Pricing includes customizing the base and cover page of the calendar.
High Res PDF files must be provided.
We can customize the monthly pictures for no additional fee, as long as proper artwork is supplied:
Cover Sheet = 6 x 3.875 + Bleed
Month Pictures = 2.5 wide x 2.2557 high (no bleed)
Any additional adjustments needed to artwork will be charged for a nominal fee.
Shipping and Taxes are additional.
NO SETUP COSTS